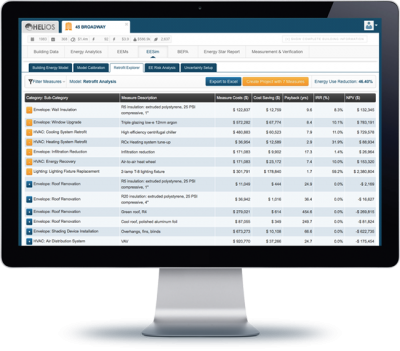 Identifying energy savings opportunities in commercial buildings traditionally involves an expensive and involved audit process in which the auditor must perform an on-site walk through followed by analyzing observations, and developing a set of recommendations for energy efficiency implementation.
This process often involves extensive use of audit and analysis tools in order to generate the energy savings recommendations; however it is difficult to achieve consistent quality in an easily scalable and repeatable fashion. In addition, auditing an entire building portfolio can be costly: Typical energy audit costs range from $0.05 / Ft2 for a walk-through audit (ASHRAE level 1) to $0.50 / Ft2 for an investment-grade audit (ASHRAE level 3).
HELiOS RETROFIT EXPLORER™ allows Facility Managers and Energy Service Professionals to rapidly and cost-effectively identify energy saving measures amongst a library of common measures for lighting, cooling, heating, envelope weatherization, controls and even rooftop solar PV.
The HELiOS RETROFIT EXPLORER™ tool will automatically calculate the interactive effects of the selected EEM package and its cost effectiveness. Expert users can customize the library of EEMS and add utility incentives.